Festival Faire
Sunday, July 16, 2023 – 4 PM
Sunriver Resort Great Hall
$100 per person
Festival Faire is this community's premier fundraiser of the year! At this lively event, vital funds are raised for the Young Artists Scholarships and Sunriver Music Festival's world-class concerts.
Celebrating the 28th year of the Young Artists Scholarship program, Sunriver Music Festival has awarded over $650,000 to Central Oregon music students. Thanks to your donations, we are also able to create and support ongoing music education classes and programs in South Deschutes County schools.
We hope you will join in keeping the arts alive and vibrant in Central Oregon.
Enjoy an elegant event in the Sunriver Resort Great Hall with an abundance of what the Festival does best – Music, Music, Music! Dress in your most fine or festive black & white and come for performances by the Central Oregon Mastersingers, Young Artists Scholarship recipients and mezzo-soprano/pops concert soloist Sarah Mattox (a YAS alumna).
This year's auction features desirable experiences, services, and consumables, all intended to enhance your life while you support the Festival.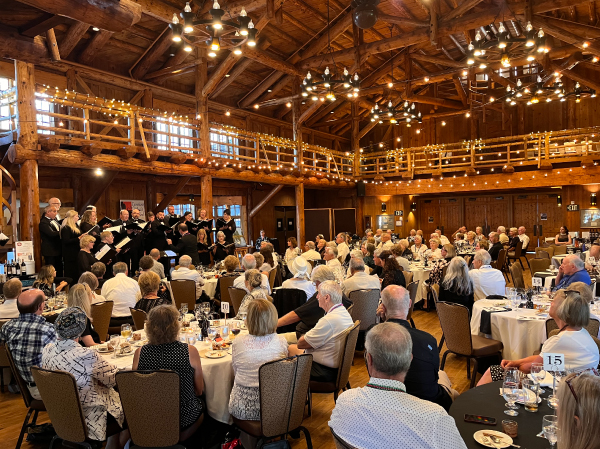 Highlights include:
A once-in-a-lifetime trip to Florence, Italy, with a guided walking tour of the Italian Renaissance (airfare, lodging and all tours included)
"Wines of the World" wine cooler filled with high-end vintages from around the world, donated by Ken Hick and Cheri Cooley-Hick
Oregon Ducks football tickets with a premier tailgating parking spot
An exclusive house concert in December with concert rock violinist Aaron Meyer
…and more!
Sunriver Resort chefs will have delicious hearty hors d'oeuvres on hand and the complimentary wine and soft drinks will be flowing as you explore the auction displays. There will be opportunities to raise your paddle to Fund a Scholar and to Sponsor a Musician, to reserve your spot at an exclusive house concert or for insider secrets about music composition.
CLICK HERE for Auction Item Donation Form
All ticket sales are final.
If you are feeling unwell, we ask that you please stay home. You can turn your ticket into a tax-deductible donation to the Festival, transfer your ticket to a future Festival concert, or pass it along to a friend. Contact the Festival Office at 541-593-9310 in advance of the concert for assistance with these ticketing options.